What Our Patients Like Most About Our Pharmacy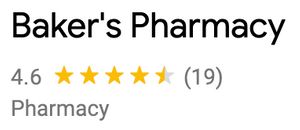 "My favorite pharmacy by far! Personal service, you're not just a number there. Highly recommend!!"

"The best. Very knowledgeable, helpful, and friendly people. Great pharmacy but also one of the best businesses in the county."

"Home town Pharmacy with the care of a close friend, always called by your first name!"

"Amazing people always willing to help you with all your needs and questions. Been going there for the past 25 years and will continue. Thank you for all you do for my family!"

"Their employees are professional, helpful, and respectful of customer concerns. I recommend them to you without reservation. Shop Local. You won't be disappointed."

"The best staff and pharmacy around! I always wondered why everyone spoke so highly of Baker's, now I know why. The most amazing, caring, considerate, helpful, understanding people that go above and beyond! I am totally wow'd by everyone here. Thank you for all of your help."

"Love Baker's Pharmacy! No question ever to big or two small and can be asked at any time!!! Very personal service!!! Thanks to all who compliment the staff!"

"A great pharmacy, extremely friendly & helpful staff, & lovely gifts. So much nicer to go to a friendly neighborhood store, rather than the big chain stores where you are just a number. I recommend Baker's to just about everybody I can, LOVE Bakers!!!"

"I love this pharmacy been doing business with them for many years they are very helpful & very pleasant l wouldn't think of going anywhere else"